Quickly Merge Two Outlook PST Files Together!
Two PST files of your Outlook are now possible to merge into one PST file through Outlook PST merge software. Instead of wasting your time to manually merge two PST files together, get PST merge software as a solution with multi-featured and user friendly graphic interface.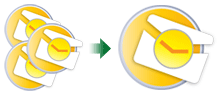 We often archive PST files to reduce files, some time curtail PST files in parts to make it of lesser size and due to some or the other reasons we keep on collecting PST files from various sources. All these multiple PST files causes the accumulation of multiple PST files in Outlook, which at the end makes it complicated to search, manage and synchronize bunch of PST files and folders.
Role of PST Merger Tool to Combine PST Files in Outlook!
PST files scattered all over your machines require more time to search and manage thus; merging PST files in Outlook helps you to arrange all data in single PST file into their respective folders. This can be quickly and conveniently achieved through PST merger tool. Providing you following features:
Merge several PST files of any sizes together

Allow merging of contacts folder in Outlook

Keep all data of all folders from PST files in common folder
Do not make any changes into original file while merge PST files
Let you to join PST files to easily access the two PST files.
Merge two PST files and create UNICODE PST file of unlimited size
Remove or delete all duplicates while you merge two PST files
Let you merge two or multiple PST files speedily.
Make your Test Now! Download Demo of PST Merge Tool!

You can evaluate software to merge multiple PST files and check how to merge two PST files in Outlook. Trailing limits you to merge first three folders of PST files. For limitless use of the software, place order for license version now in just $69 for personal key and $199 for business key.
Money Back – 30 Days