Outlook PST Merge tool has shaped and designed by using advanced algorithm which makes it congruent to deal with all the types of Outlook Data files whether you are going to merge an UNICODE or ANSI data file type.
Have a look at the PST File Merger software's working profoundly:
Merge PST Files: "Add File" and "Add Folder" are the inbuilt options within PST merge software through which a user can even perform batch execution to combine PST files. However, these both buttons have different approaches to merge archive PST files in Outlook 2010:
Add File: To insert several PST files. This option is quite helpful is you are going to add different PST files from the varied location within the machine.
Add Folder: This option is a pertinent option in the context of adding an entire folder full of Outlook data files. Its on optimum medium for batch merging of PST files.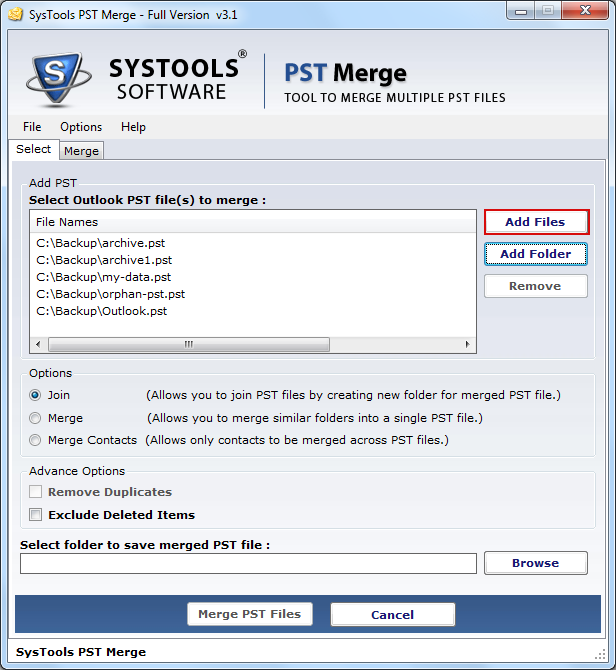 Join or Merge – Go with your need: These are two different modes to deal with inserted PST files (which have selected to merge).
Join: It is a smart way to combine multiple Outlook files into one single PST file. "Join" option help in centralizing the data of different PST files with a better manner. It creates a separate PST file after merging the entire database of Outlook and define data items of each merged Outlook Data File within a specific personal folder.
Merge: After choosing this option, an Outlook users can merge multiple PST files into a single Outlook Data file. This newly PST file includes only one personal folder within itself, which contain all the data of merged Outlook PST files. "Join and Merge" option in PST Merge software also provides a short description for users at the end of merge process which tells about the name of newly created (merged) Outlook Data file along with its location within the machine.
Contacts: Merge Contact check box at the beginning of the utility gives an authentication to merge contacts of several PST files. Sometimes, a user seeks solution to assemble only contacts from the "N" number of PST files into a specific Outlook data file. "Merged Contacts" check box allows users to merge contacts from different PST files while performing merging and simplify such kind of task to. In addition to providing final report, this option also provides the information of CSV file which contains a list of duplicate contacts.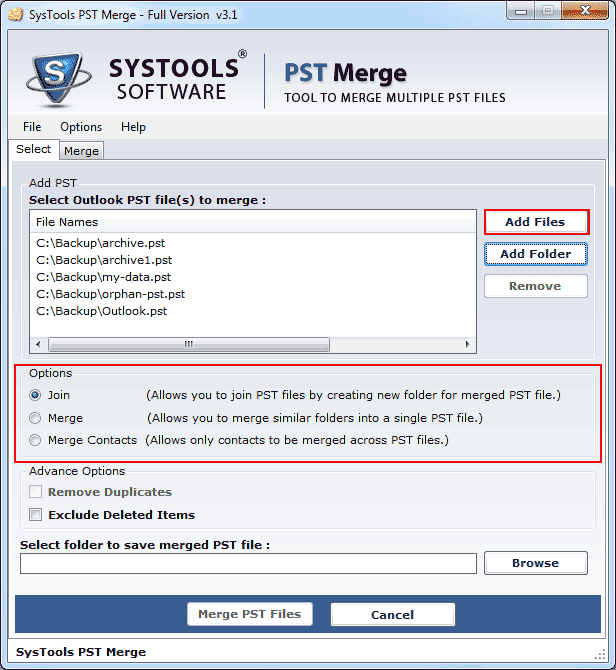 Remove Duplicate Items: Replicate data items across various Outlook PST files can cause N numbers of cumbersome problems. PST Merger helps to remove duplicate Outlook data file items while performing merging. Just mark the check-box "Remove Duplicates" and click on "Merge PST Files" button. It will automatically start removing the duplicate items which exist across different Outlook Data files.
Exclude Deleted Items: It is counted as the useless sector or the PST file. Merging several PST files including deleted items is not more than wasting of Outlook Data File's space. From this perspective, the Outlook 2010 PST merge software also offers an option called "Exclude Deleted Items" which can exclude the deleted items of PST files before combining Outlook files.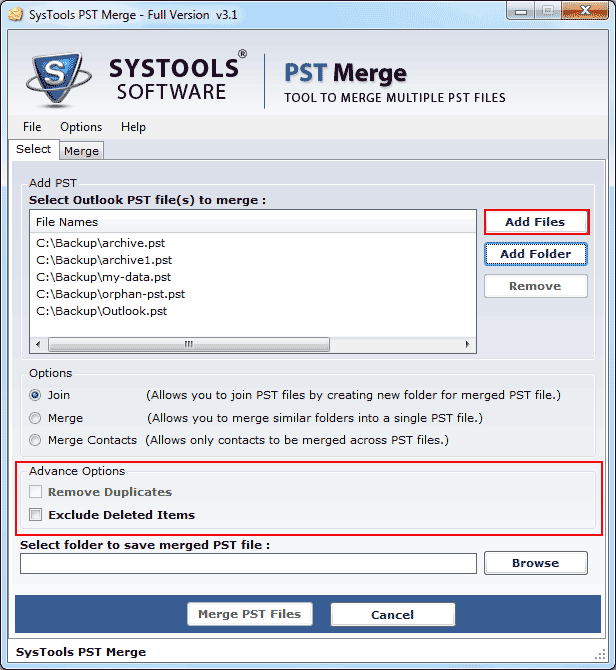 Status Bar Till Complete Execution: User friendly interface of the PST Merger is primarily one of the unique contribution of developers which gives more convenient while working with it. The software shows the complete status of execution on the screen while performing merging. "Current PST Status" and "Overall Status" displays an estimated time that can be taken by the tool for merging PST files or how much data has been processed by the tool.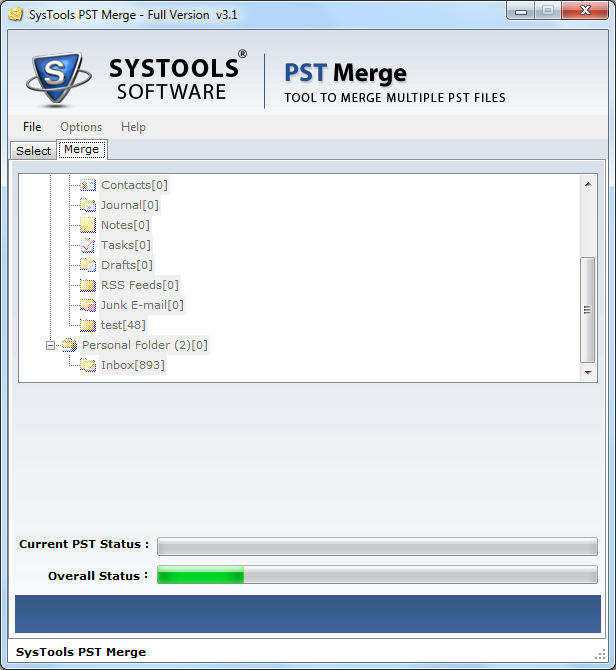 Final Report – A Brief summary: After the completion of the process successfully and clicking on "Ok" button. PST Merge Utitlity roll out next windows screen to show a brief summary of the entire execution process. This report defines the executed numbers of PST files with serial number, PST name, number of duplicate items in each file, total number of items in a PST file and ultimately the status.
Easy and Understandable Interface: Outlook 2010 PST Merge Software is just not an advanced technology to merge PST files. It has also built up with the concern of the user interface and that makes it more convenient for Outlook users. Each and every section of the software is self-explanatory, means it's easy to execute the application, even if you are not much aware about the technology.