Add Archive PST in Outlook 2013 to Burn Your Worries!
An Outlook can contain numerous PST data files, especially if you have created the Outlook Data file for each configured email address. And, really, it gives user a privilege to manage and organize their Outlook's database. But, what if the numbers of these data files will cross the limit of your management?
Is it possible to add this data files into Outlook right now in a single click?
Add PST software helps to minify this task of managing data files by providing its advanced features to users. By executing this software, a user can add multiple Outlook PST files simultaneously in Microsoft Outlook along with the default data file. This software lists all the data files in MS Outlook just after performing addition.
Feature List of ADD PST Software:
Batch addition of the PST files in Outlook (use Add File or Add Folder button)
Capability to add both types of Outlook Data File (ANSI & UNICODE)
Import all the attributes of Outlook file like items including emails, attachments, contacts, etc.
Don't increase the size of the default PST file.
Specially, designed to add archive Outlook PST files.
Compatible with all versions of Microsoft Outlook 2003, 2007, 2010 & 2013
How to Add Archive PST in Outlook 2013 Profile?
Add PST tool has developed with the intention to add various PST files with existed data file whether it archived one or data file from any other external source. An Outlook user seeks manual methods to add older emails (archive data) into currently installed PST file. However, import function is already available in Microsoft Outlook through which a user can import these data files, but still it recommended less in comparison of Add PST utility. The import feature in Outlook only imports the entire database of an Outlook Data File into default file which sometimes becomes more unmanageable. Software allows user to perform batch addition of PST files and Folders.
Take a look on the working of the tool:
Initiate the software within your machine quickly.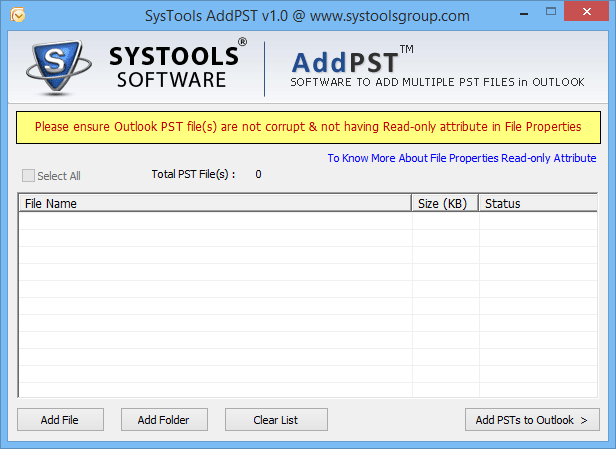 Click on "Add File" or "Add Folder" button to add Outlook PST Files.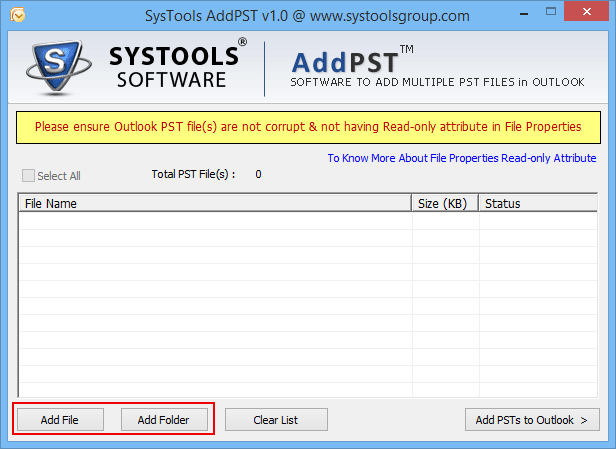 Mark the checkbox in order to select files, which you want to add in Microsoft Outlook.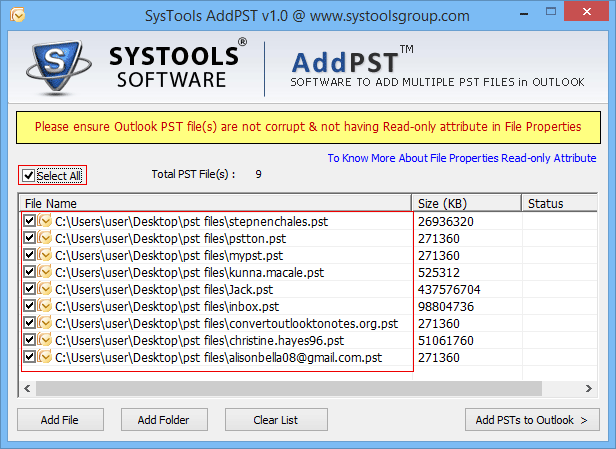 Finally, click on "Add PSTs to Outlook" button to begin the summation of PST files.
Points to Keep in Mind While Executing ADD PST Software:
This software does not work on corrupted or encrypted PST files.
Microsoft Outlook should be configured to run
Free of charge download to add archive PST in Outlook 2013 & other versions!
Download now the free version of Add PST software to add archived PST file in Outlook, which will add the PST files of size not more than 5 MB. We will highly recommend you to go for the full licensed version of the software which is available at the cost of 29 USD. Licensed version of the software don't have any kind of file size limit while adding them into Outlook.