Outlook Attachments Extractor
Extract attachments from Outlook PST Files via batch processing
Three different ways to maintain hierarchy: Folder wise, Folder (Subject Wise) & No Folder
Extract and export all types of attachments from emails (images, file, videos, etc.)
Work on both types of PST files: ANSI & UNICODE
Microsoft Outlook should be installed on Windows Machine
Supportable with all the versions of MS Outlook including 2003, 2007, 2010, 2013 (32 bit)
Remove Attachment From Outlook Email – A Cumbersome Task
In this era of technology, email communication has been enhanced and reached out on a new level where a user can do much more than sending or receiving email. Along with transmission of emails, a user can customize email & its format, set appointments, meetings and send various types of attributes using "Attachment" button.
In Microsoft Outlook, one by one these attached files start occupying the space of data storage and soon break the storage capacity of the mailbox (PST file). As a resultant, heavy mailbox either slow down the performance of Outlook or in some cases it leads towards the cause of data corruption or loss.
It is must for an Outlook user to maintain a balance storage of his/her mailbox so none of any error, corruption and risk of data loss can evoke. By focusing on the mainstream (attachments) part of Outlook data file and by separating it from emails, a user can handle such problems.
Outlook Attachment extractor deals with these attached documents and extracts it from the Outlook emails in order to reduce the PST size. It is a commanding tool to extract specific or all attachments of any type and size in batch from all available emails.
How it Works – Remove Outlook Attachments?
Step 1Initiate Outlook Attachment Extractor software on your machine by following given path:
Start >> All Programs >> Outlook Attachment Extractor
Step 2 Click on "Open" menu and the application will display following screen.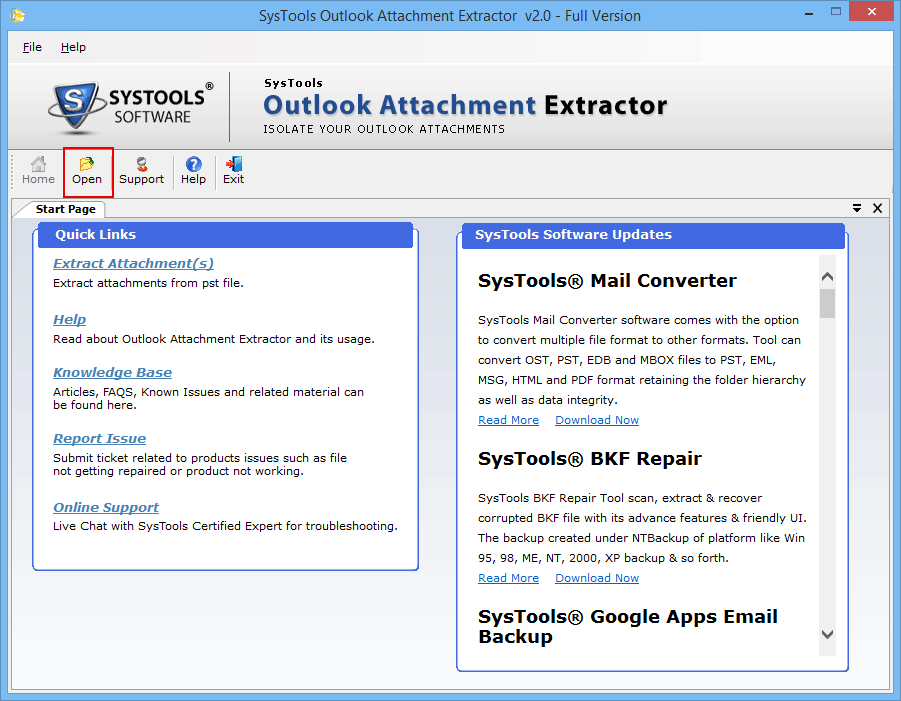 Step 3 Use "Add File" or "Add Folder" option to insert PST file (s).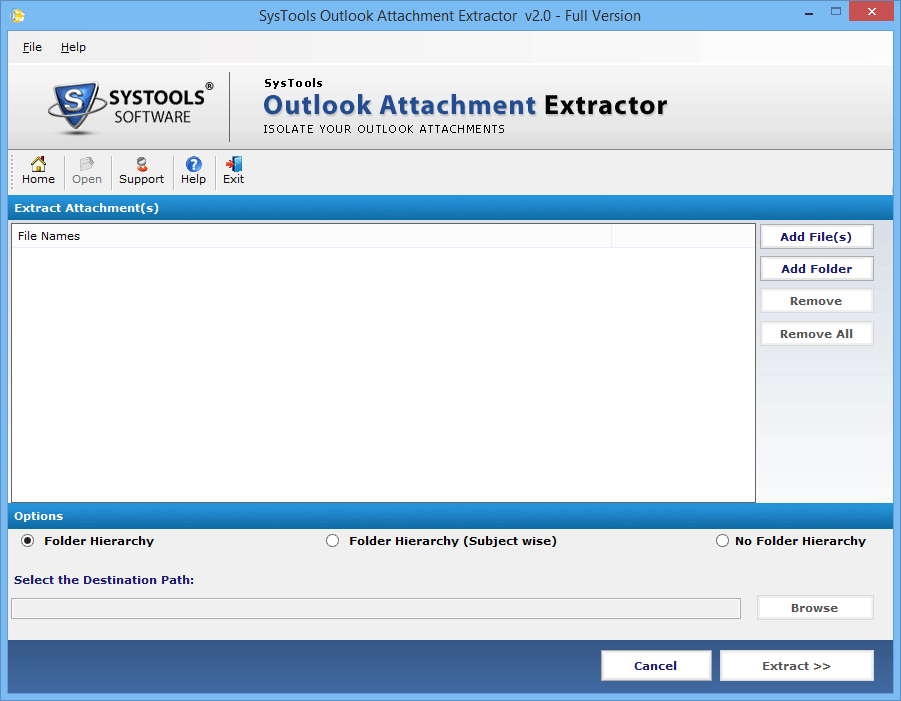 Note: "Remove" and "Remove All" button can be used to remove a PST file which has added by mistake.
Step 4After browsing the Outlook PST file (s), choose one of the option to maintain the folder hierarchy of the resultant PST file:
Folder Hierarchy
Folder Hierarchy (Subject Wise)
No Folder Hierarchy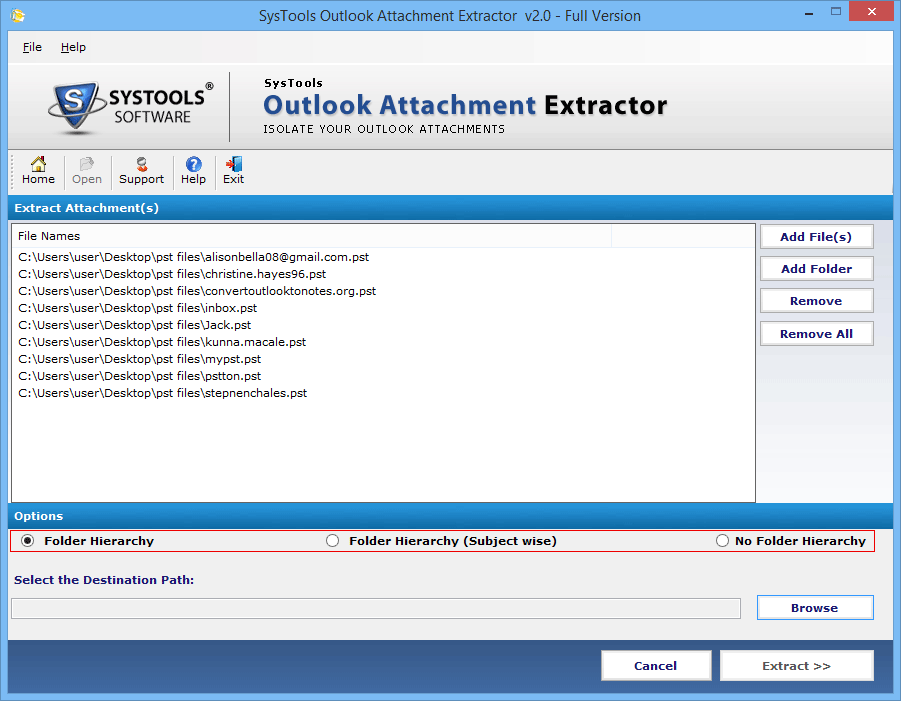 Step 5 Allocate a destination path to save the extracted data.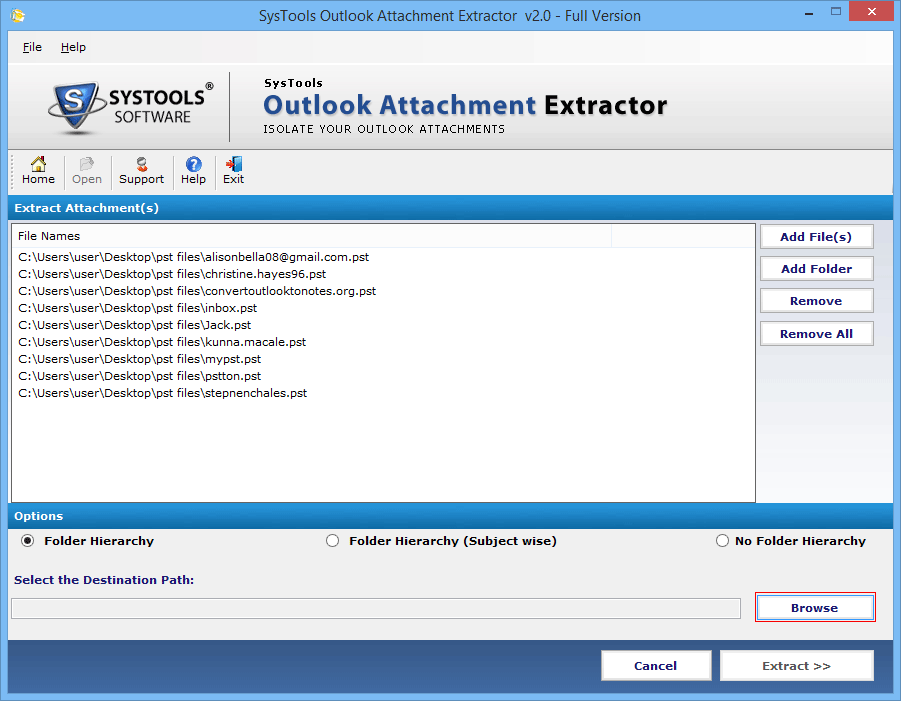 Step 6 Finally, click on "Extract" button to begin the extraction procedure.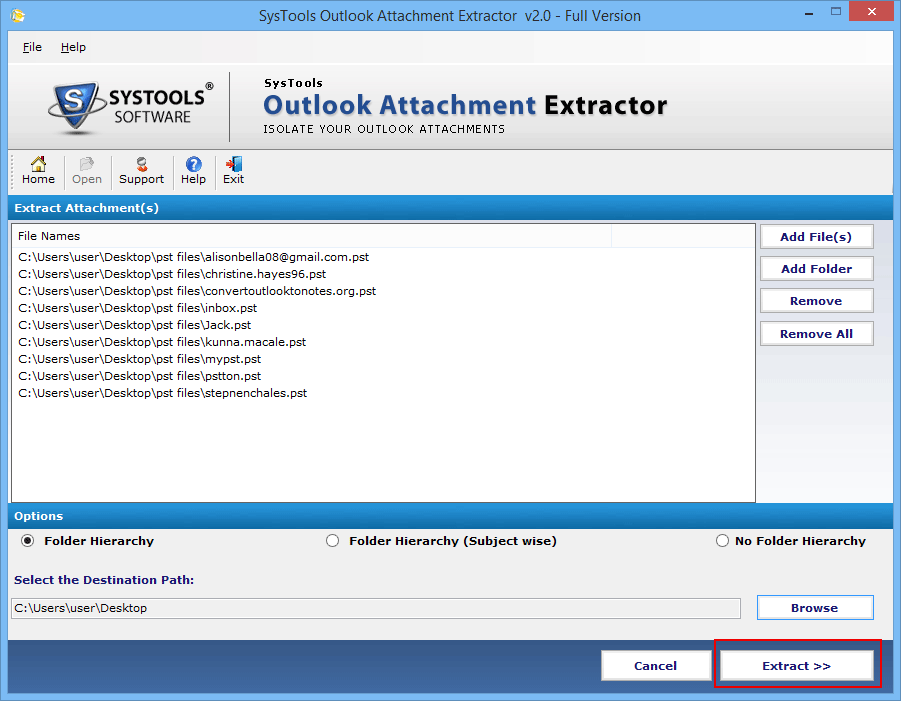 Download Outlook 2010 Attachment Extractor Software!
Download trial version to check ability and feature of the software. The trial version allows you to extract first 20 attachments from any PST file in Outlook. You can buy software to extract unlimited attachments easily by paying $49 only. For more inquiry and detail contact our support team that is available 24x7 hours.